Join us for our Painting the Sacred Within Retreat in Morocco in 2018!
Registration for our autumn 2018 Morocco Retreat is now open!
*Join us for the Adventure of a Life-time*
In a far away land of intricate patterns, saturated colors and secret gardens, join artists Mati McDonough and Faith Evans-Sills on the exotic journey of a lifetime....
Join us in Marrakech, Morocco for a week long retreat of opulent luxury, guided shopping, cultural exploration and workshops bursting with creativity and inspiration gathered on location as we journey in this exotic land. This will be a time to nurture the whole self, to slow down and soak in the environment with all of your senses. Mati & Faith will lead you through workshops on capturing inspiration with watercolor paint, providing you with the opportunity to meet the projects wherever you are in your art practice.
Inspiration Gathering with Watercolor Painting will be our jumping off point as together we'll delight each of our senses with fresh food, exotic tours, field trips down secret alleys, guided shopping, henna parties and so much more.
Consider this your invitation to join us on the adventure of a lifetime in Marrakech, Morocco, September 29 to October 5, 2018.
WE WILL BE STAYING AT THE MOST MAGICAL PLACE...RIAD YASMINE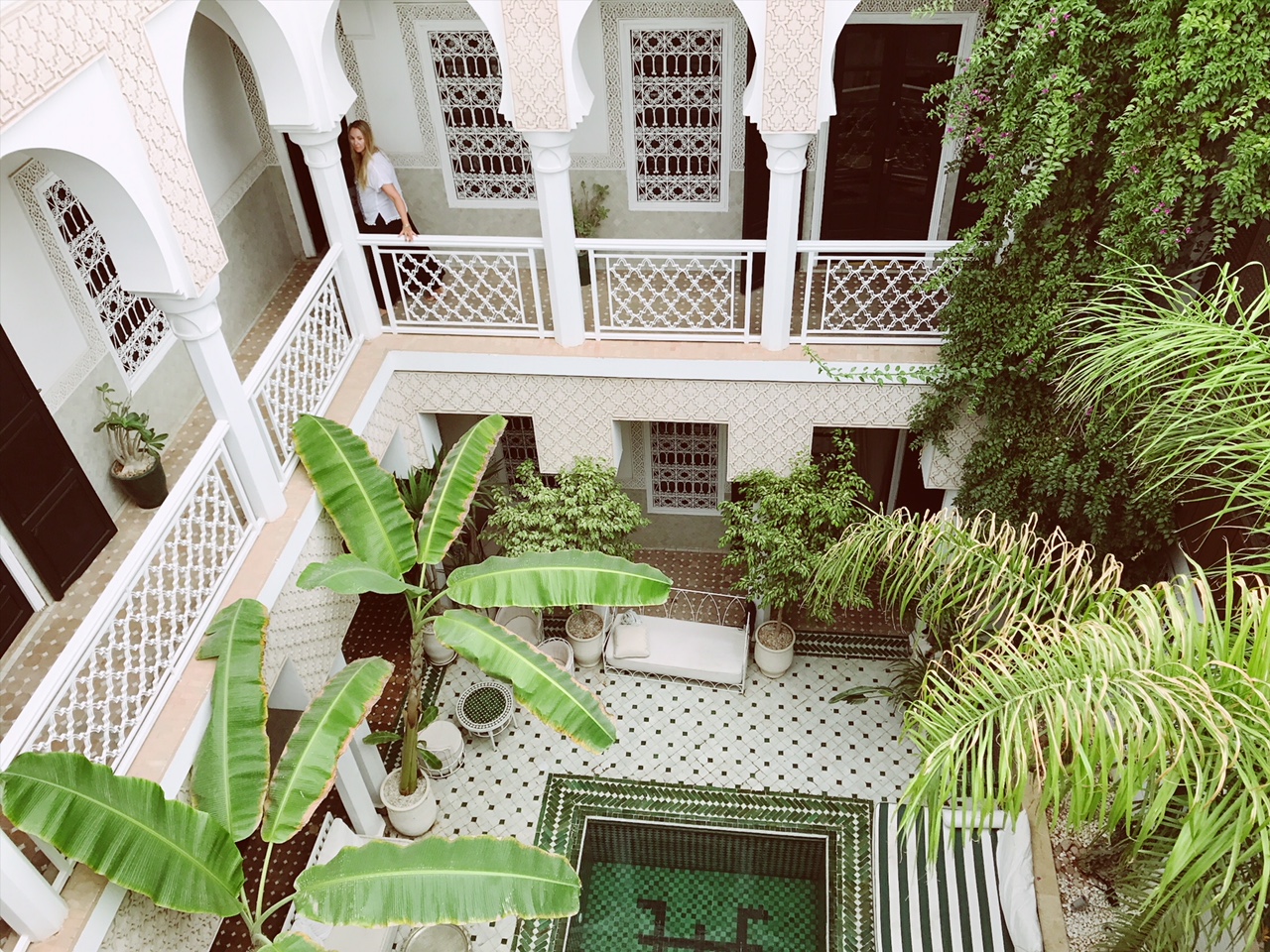 NESTLED IN ITS OWN PRIVATE GARDEN OASIS, RIAD YASMINE IS A STYLISH, CHARMING AND HOME-LIKE BOUTIQUE RETREAT THAT IS LOCATED WITHIN MARRAKECH'S MEDINA, IT IS THE PERFECT LOCATION FROM WHICH TO EXPLORE MARRAKECH ON FOOT. ONE GUEST ROOM IS SINGLE OCCUPANCY (this room is sold out), OTHER GUEST ROOMS ARE DOUBLE OCCUPANCY.

THE RIAD IS A FORMER PRIVATE HOME WITH MOORISH ROOMS AND SUITES OF REFINED ARCHITECTURAL BEAUTY DOWN TO THE SMALLEST DETAIL. IT COMBINES AUTHENTIC CHARM, DISCREET LUXURY AND A CONTEMPORARY ATMOSPHERE. ENJOY THE DIFFERENT RELAXATION SPACES THE RIAD OFFERS. FROM THE ROOF TOP TERRACE ENJOY BREATH-TAKING VIEWS OF THE MEDINA AND THE SNOW CAPPED ATLAS MOUNTAINS IN THE DISTANCE. THE WIDE SOLARIUM IS EQUIPPED WITH LOUNGE CHAIRS, TOWELS, HATS, GIVING YOU THE OPTION TO UNWIND IN THE SUN OR IN THE SHADE OF A PARASOL. IN ADDITION TO THE SPACIOUS LOUNGE AREAS, THERE ARE SEVEN DOUBLE-OCCUPANCY, AND ONE SINGLE OCCUPANCY, GUEST BEDROOMS EACH WITH SPACIOUS EN-SUITE MOROCCAN TILED BATHROOMS. THE ROOF TOP AND OTHER COMMON AREAS WILL ACT AS OUR CENTRAL MEETING SPACE FOR RELAXING, GATHERING, ART MAKING OR EATING. THE CARVED STUCCO AND MULTIPLE BALCONIES THROUGHOUT, CREATES A BEAUTIFUL EXOTIC ATMOSPHERE WITHIN THE INTERNAL COURTYARD AND CENTRALLY LOCATED TILED SWIMMING POOL SURROUNDED BY LOUNGES.
THE BEAUTIFUL DINING ROOM ON THE GROUND FLOOR, WHICH CONTAINS A LARGE MIRROR REFLECTING THE PATIO, IS FRAMED BY A LIVING ROOM IN THE MOROCCAN TRADITION WITH LOUNGE AND FIREPLACE, AS WELL AS AN EQUIPPED LIBRARY.

MODERN ETHNIC GLAMOUR IS THE THEME . ATTENTION TO DETAIL EMERGES AT EVERY TURN IN THE HAND-PAINTED DECORATIVE CEILINGS AND INTRICATELY CARVED PLASTER THROUGHOUT THE HOTEL ON THE BALCONIES AND FIREPLACE IN THE MAIN DINING ROOM, AS WELL AS IN THE CAFTAN-FABRICS CONVERTED INTO CUSHIONS.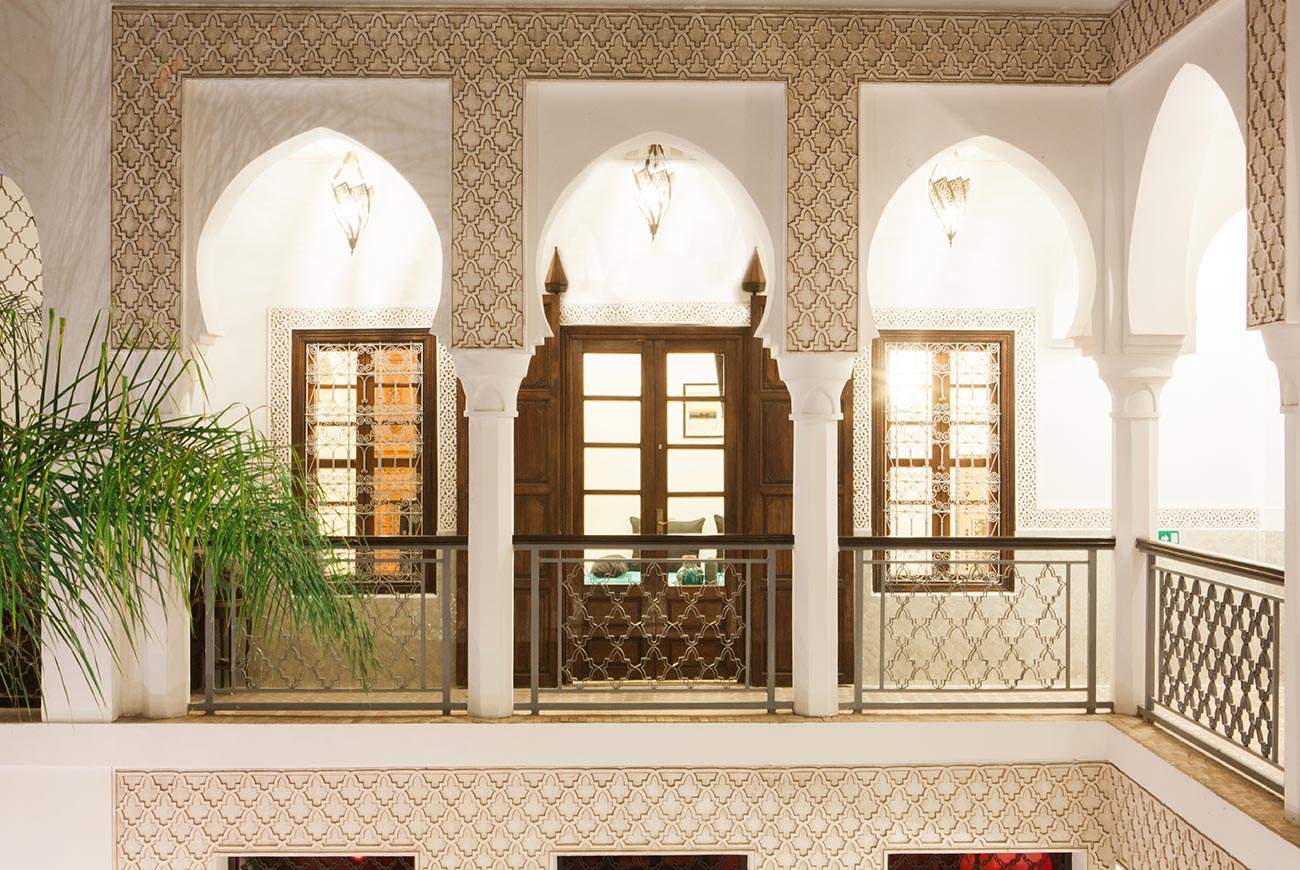 OUR LUXURIOUS 7-DAY ITINERARY:
saturday, sept 29 (day 1)- arrival and orientation
Arrive in Morocco. We suggest you plan your landing arrival time no later than 3pm local time. Transportation from the airport to Riad Yasmine will be provided. You'll have a chance to refresh yourself and settle into the beautiful Raid, take a dip in the pool, relax on the roof top terrace, or explore the neighborhood. The Retreat will begin with an Opening circle at 6pm, followed by a three course dinner at Riad Yasmine.
sunday, sept 30 (day 2)- workshop, tour of marrakech & guided shopping
Breakfast at Riad Yasmine, along with an inspirational workshop on Watercolor Painting. Then it's off for some adventuring. Guided tours of the Marrakech Medina and Souks will be taking place, along with excellent guided shopping. We'll have lunch at a magical restaurant in town. Dinner will be served at Riad Yasmine.
monday, oct 1 (day 3) - workshop, majorelle gardens & camel riding
Breakfast at Riad Yasmine, followed by the continuation of our Watercolor Workshop.

Lunch at Riad Yasmine will be served family style on the Moroccan tiled terrace. There will also be free time at Riad Yasmine to enjoy the grounds and pool and an afternoon trip to the Majorelle Gardens, followed by optional Camel Rides in the desert at sunset.

Dinner will be on your own upon our return to Marrakech, either at Riad Yasmine or at a fantastic selection of restaurants that we recommend in town.
tuesday, oct 2 (day 4)- day trip to the anima botanical garden & atlas mountains.
Breakfast at Riad Yasmine, followed by an early departure for our adventure in the atlas mountains. On this day we will be traveling to and exploring the beautiful foothills of the Atlas Mountains; about a 1.5 hour drive. On the way, we will stop to explore the gorgeous, inspirational Anima Botanical Gardens. We'll continue our journey into the mountains with a 30 minute hike up to Kasbah du Toubkal, a National Geographic Unique Lodge Retreat where we will have a delicious lunch, and we will visit a near by Berber village. On the way back to Marrakech we will stop to hand out school supplies to village children. Dinner will be enjoyed at Riad Yasmine in Marrakech upon our return.
wednesday, oct 3 (day 5) - spa day, free time & henna party
Breakfast at Riad Yasmine followed by an optional trip to the spa for Moroccan Hammam & Massage Treatment. The afternoon will be yours to explore Marrakech as you wish with free time for additional shopping and sightseeing in town. Lunch will be enjoyed on your own in town. In the evening we'll reconvene at Riad Yasmine for a Henna Party, where local women will join us to paint our hands with Henna patterns. You'll enjoy dinner on your own at a fantastic selection of restaurants that we recommend in town.
thursday, oct 4 (day 6) - workshop, guided shopping, carriage rides & closing circle
Breakfast at Riad Yasmine, followed by a continuation of our Watercolor Workshop: Harnessing Local Inspiration with Watercolor. Lunch will be served family style at Riad Yasmine. In the afternoon we will have the option for a second guided shopping trip to the Souq market, ending in the central square at dusk. We'll end our evening with a horse drawn carriage ride through the streets of Marrakech back to Riad Yasmine. In the evening, we will have a beautiful closing circle, art viewing of our work from the week and celebration of our time together over a 3 course farewell dinner at Riad Yasmine.
friday, oct 5 (day 7)- farewell & departure
Breakfast at Riad Yasmine followed by check-out and transfer to the airport.